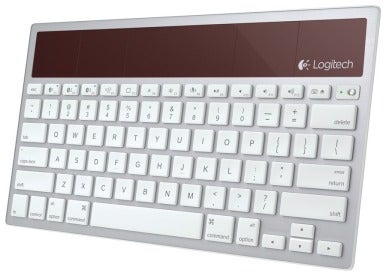 If you thought you needed three separate keyboards, one for your iPhone, another one for your iMac, and yet another one for your iPad, well think again!
Yuppers, Logitech has now come out with a new whiz-bang solar-powered wireless keyboard to rule em all, and one that easily allows you to switch between all of your favorite Apple devices on the fly.
Sweet!
Logitech not only designed its new input device, the
K760 Solar Wireless Keyboard
, for Apple devices, complete with Apple-specific keys, such as command and eject, but switching between various Apple devices couldn't be any easier than by just hitting one of three keys designed for each device.
Again.... sweet!
Mind you, Logitech's new beauty will set you back around eighty smackeroo's, but that's a hell-of-a-lot better than paying for three separate keyboards, or having to re-sync a singular keyboard each time you wished to use it with a separate device.
Unfortuately, as good as it looks aesthetically, this thing is made with plastic, so don't expect quite the same build quality of Apple's lovely little aluminum goodness.
However, Logitech's new keyboard beauty does boast of the this little goody: it's extremely good on battery life, and that's simple because it's completely powered by light, inside and out, and be that light from natural sources such as the sun or from artificial sources such as your desk lamp. Logitech says that: "........ any light—low light and lamp light, indoors and out. Fully charged, it works for at least three months—even in total darkness."
In conclusion, the Logitech K760 might lack a numeric keyboard, which I personally prefer, but it looks much like Apple's own keyboards which is a good thing in my humble opinion. No batteries is, of course, I very, very good thing indeed, as is the fact that it can be synced to work quickly and easily on either a Mac, iPhone or iPad. No wonder MacWorld gave it
four-out-of-five mouse rating
, and that, my dear two-or-three readers is more than good enough for me.
And that's my 2 cents on the K760 4 this dark and icky Wednesday, May 30, 2012